My mission is to create a better life for each individual and by that make the world a better place to live.
Latest book:
itZyourlife…go living
How do you make your life a success? How to relax and still be efficient? How to solve problems? Is creativity only for the few? Why are we here? Remember to e

njoy your life!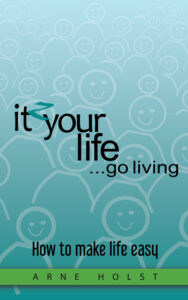 https://www.amazon.com/author/arneholst
From my LinkedIn profile:
McKinsey Shortlist: ……" it's critical for leaders to succeed and for their organizations to thrive. So where to start with calming down?
Go to bed. Of course, that's not as easy as it should be. A McKinsey study of 196 business leaders found two-thirds were dissatisfied with the amount of sleep they get and 55 percent were unhappy with its quality"
Arne Holst, author and previous vice president sourcing.: "Read my book itZyourlife…go living and you will agree with McKinsey and even learn how to succeed."
Thank you, McKinsey.
Arne Holst
Private coaching: just send an e-mail to arneholst@itzyourlife.com
Please remember to

share

the info in itzyourlife.com with your family and friends. Send a link to itzyourlife.com
Imagine, you are able to help people, just by sharing information.